As the largest planet orbiting the Sun,
Jupiter
has had a profound influence on the solar system. But its origin remains a profound mystery. To learn how Jupiter formed and how it has evolved, Juno is studying the gas giant's
gravitational
and
magnetic fields
, vast
magnetosphere
, intense
aurora
, and exploring the swirling clouds that form Jupiter's colorful, trademark
atmosphere
. The spacecraft will also reveal what Jupiter is made of – and how much of it is water.
HISTORY OF THE SOLAR SYSTEM –
THE MOTIVATION BEHIND THE JUNO MISSION
Four and a half billion years ago, a giant cloud of gas and dust, called a nebula, collapsed to form our solar system. Composed mainly of hydrogen gas, most of the nebula became the star we know as the Sun. The rest of the swirling cloud would condense to form Earth and the other planets, asteroids and comets. It isn't clear what triggered this collapse, but it does seem that whatever process produced our solar system is at work across the universe. We've observed half-formed stars – disks of gas in the midst of collapsing – and Jupiter-like planets orbiting other stars.
Jupiter was likely the first of the planets, forming relatively soon after the birth of the Sun, because it is mostly made of the same light gases that the Sun is made of – hydrogen and helium. After the first few million years in the star's life, a wind is generated that blows away most of the light gases that remain in the original nebula. For Jupiter to be primarily composed of hydrogen and helium, it must have formed while there was still a lot of those light gases around – when the solar system was young.
Since Jupiter is mainly made of the same stuff as the original nebula, and it's enormous mass prevents the loss of even the light elements of its atmosphere, the gas giant holds clues about the origin of the solar system. As the nearest giant planet, studying Jupiter can also provide insight into planetary systems around other stars.
Early science results from Juno portray the largest planet in our solar system as a complex, gigantic, turbulent world, with Earth-sized polar cyclones, plunging storm systems that travel deep into the heart of the gas giant, and a mammoth, lumpy magnetic field that may indicate it is generated closer to the planet's surface than previously thought.
Interact with the hotspots below to learn more.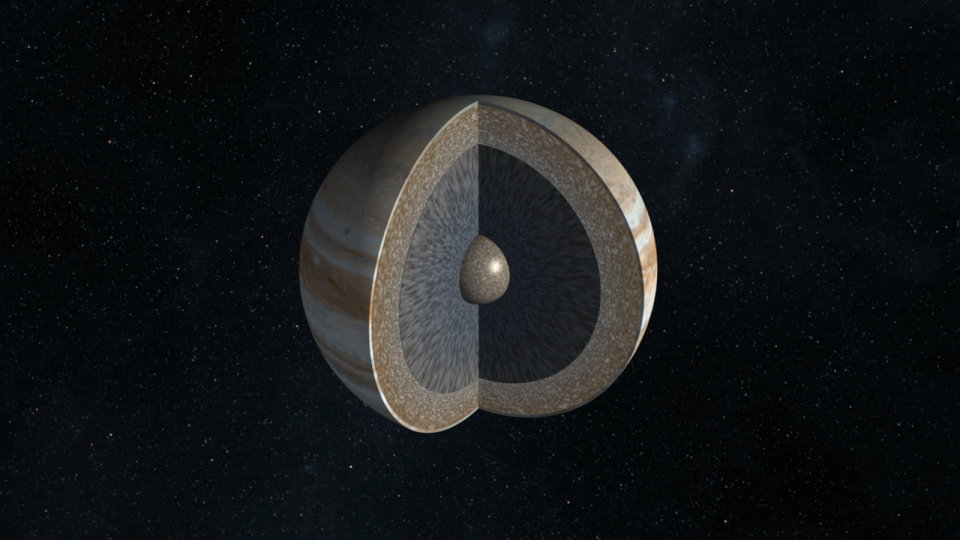 s
Spacecraft